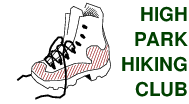 High Park Hiking Club
Hiking in the Greater Toronto Area! Each Sunday (mostly) during the spring and fall, we meet to car pool to parks and trails and go hiking. If you want a low impact work-out, fresh air and new people to meet, check us out.
We carpool from Old York Mills Road, usually at 10:00am. Always check our hike instructions.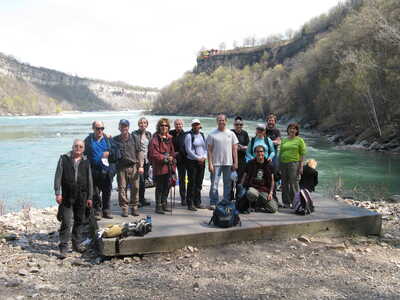 Announcements
Wednesday October 15

This coming Sunday's hike is to Scotsdale Farm and Silver Creek. The hike leader is Alan Backlund. We pick up at 10:00am at Old York Mills Road.

Wednesday October 8

Saturday, we are hiking Niagara Gorge. We will pick up at Old York Mills Road at 10:00am.

Wednesday October 1

This Sunday, we are hiking Hockley Valley with leader Andrea Moses, doing our standard pickup at Old York Mills Road.

Wednesday September 24

Okay, let's try Dundas Valley again! The hike leader still is Jennifer Rowbotham. We still are picking up at Old York Mills Road, at 10:00am Sunday.

Sunday mnorning September 21

It is raining, and thunderstorms are predicted. We regret, we must cancel today's hike.

Saturday evening September 20

We are watching the weather. There were raindrops here in Etobicoke at around 8:00pm. It is dry now. Check our MeetUp page for updates.

Wednesday September 18

On Sunday, we hike Dundas Valley with hike leader Jennifer Rowbotham.

Wednesday September 10

This Saturday, we are hiking at Singhampton Caves with hike leader Howard Gibson. We are working on the schedule and we are looking for hike leaders. Please contact us if you are interested.

Wednesday September 3

We have a Fall Season opening hike! Alton Grange with hike leader Howard Gibson. Our other hike leaders will now be bugged with requests for hikes and destinations.
Yes, we are on Facebook!