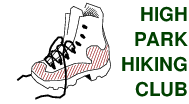 High Park Hiking Club
Hiking in the Greater Toronto Area! Each Sunday (mostly) during the spring and fall, we meet to car pool to parks and trails and go hiking. If you want a low impact work-out, fresh air and new people to meet, check us out.
We carpool from Old York Mills Road, usually at 10:00am. Always, always, always check our hike instructions.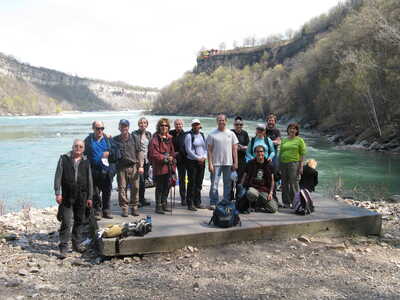 Announcements
Wednesday June 22

Our final hike of the season is Humber Valley Heritage Trail with Howard Gibson. Keep an eye on this website for future hikes. Officially, we start again in September. Sometimes, we run something in the summer. We will update Meetup and we will send an email if anyting comes up.

Wednesday June 15

We have our next two weekends sorted out as you can see by our updated schedule. This coming Saturday, thanks to Andy Hueton, is to Forks of the Credit.

Wednesday June 8

Our next hike is Primrose Boyne River with Jennifer Rowbotham. Yes, there will be hikes on the two weekends after this one. Keep watching this spot!

Wednesday June 1

This Sunday's hike is to Hockley Valley with Andrea Moses.

Wednesday May 25

Our next hike is Scotsdale Farm and Silver Creek on Sunday with hike leader Alan Backlund. We are back to our regular 10:00am pickup at Old York Mills Road.

Wednesday May 18

This long-weekend Sunday, we hike Singhampton Caves People keep asking us for this! The hike leader is Andy Hueton. The pickup time at Old York Mills Road is early, 9:00am.

Later, Tuesday May 10

Our hike this coming Sunday is to Waterdown, with hike leader Jennifer Rowbotham. We are back to our 10:00am pickup at Old York Mills Road, but this one is a car shuffle.

Tuesday May 10

We are having problems updating the website. the Wednesday May 4 announcement went up earlier today, instead of last week, when it would have been useful. We are currently working around the problem, and considering alternate web servers. If anyone was inconvenienced, we apologize.

Wednesday May 4

We hike this weekend on Saturday, May 7. We are going to Niagara Gorge, on the American side. To go on this hike, you need your passport. The hike leader is Bill Baird. We pick up at Old York Mills Road, at 9:00am this time!
Old News -- this runs on quite a bit.
Yes, we are on Facebook!