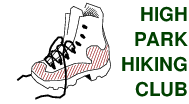 High Park Hiking Club
Hiking in the Greater Toronto Area! Each Sunday (mostly) during the spring and fall, we meet to car pool to parks and trails and go hiking. If you want a low impact work-out, fresh air and new people to meet, check us out.
We carpool from Old York Mills Road, usually at 10:00am. Always, always, always check our hike instructions.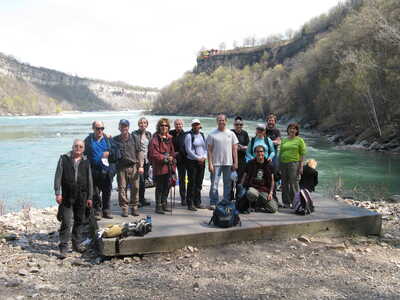 Pandemic Hiking
We will be following our Pandemic Hiking protocol.
Announcements
Thursday September 10

Toronto is moving to COVID‑10 Stage 3. We are looking to cautiously resume hiking in the fall.

Friday June 19

We hope everyone is staying healty. There is now not much chance of a spring 2020 hiking season. Let's hope we can get things going in the fall.

Monday March 23

We are getting ready to plan our new season. Unfortunately, with COVID-19, many of our parks and trails are closed. We all are being advised to distance ourselves from each other to prevent the rapid spread of the disease. This rules out carpooling, among other things. High Park Hiking Club's Spring 2020 season is on hold until further notice. We will keep you posted.

Sunday March 15

We are starting to get ready for our new season. We will have a schedule and membership forms up soon.

Saturday November 23

Sunday will be our last hike of Fall 2019. We are doing Grindstone Falls with hike leader Carol Pyke. We pick up at our usual 10:00am at Yonge and York Mills. Thank you hike leaders and hikers for making this all worthwhile. We will be back next season.
Old News -- this runs on quite a bit.
Yes, we are on Facebook!