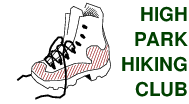 High Park Hiking Club
Hiking in the Greater Toronto Area! Each Sunday (mostly) during the spring and fall, we meet to car pool to parks and trails and go hiking. If you want a low impact work-out, fresh air and new people to meet, check us out.
We carpool from Old York Mills Road, usually at 10:00am. Always check our hike instructions.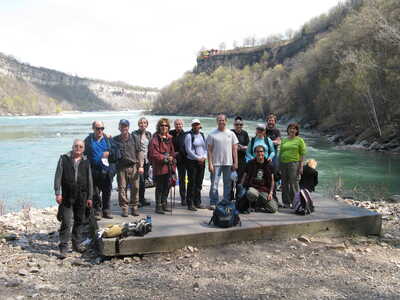 Announcements
Thursday March 26

We have our first hike up on the website. Long Sault, Sunday April 12. Later that week, we have High Park Ski Club's FITS Night, Wednesday April 15, at the Lithuanian Hall, 1573 Bloor West, just west of Dundas Subway station.

Friday March 6

Spring is coming, although you would not know it to look at all our snow! I have archived last season's hiking schedule, and started off our new new one, which, as of yet, is not populated with hikes.

Thursday November 27

This Sunday probably will be our last hike of the season. Hike leader Bill Baird has come up with a new destination for us, Durham Wetlands. We will head out there from our usual pick-up at Old York Mills Road It will be exposed and cold out there so dress accordingly. at our usual time of 10:00am. Thank you everyone for coming out. Watch this page for updates. Otherwise, we will start up again next April.

Wednesday November 19

Our hike for this coming Sunday is Waterdown, with hike leader Duke Duyck. The weather report shows freezing temperatures until Saturday, and then 7°C on Sunday. We pick up at our usual time of 10:00am at Old York Mills Road.

Wednesday November 12

This Sunday's hike is Primrose Boyne River with Howard Gibson. We start from Old York Mills Road at 10:00am.

Wednesday November 5

This Sunday, we are hiking Seaton Trail with Andrea Moses. We will depart Old York Mills Road at our usual 10:00am.
Yes, we are on Facebook!